Discover more from Show Me One Thing - by Funmi Oyatogun
This is where to satisfy your curiosity about the world.
Over 4,000 subscribers
The real reason for the rift between Africans and Black Americans!
Why can't we all just get along?
My People,
Did you notice the trends on Social Media yesterday? The short story is that singer Adele wore a Jamaica flag bikini top and styled her hair in Bantu knots, in celebration of Notting Hill Carnival in London. The street festival, which celebrates Caribbean heritage went virtual for the first time because of the Coronavirus pandemic. After the photo was posted on Social Media, a handful of Black Americans were outraged because in their view, it was cultural appropriation of a black hairstyle by a white woman. It quickly devolved into a digital tussle among Black Americans, Black Caribbeans, Black Brits and Africans. Most people were speaking over each other so it turned out to be another day of cruelty on Social Media rather than a learning moment. It always breaks my heart when things like this happen but this particular episode was heightened because we are all still mourning Chadwick Boseman, who played our Wakanda King! May he rest in peace.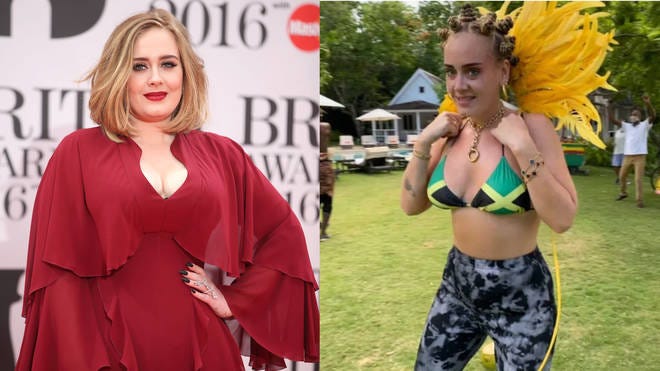 Here's the long story.

When I was 16, I left Nigeria to go to university in the USA. It was the first time I faced the layers of race and blackness. It is different from living abroad as a child and travelling from time to time. As an African learning in a white town, I faced my blackness daily. Being black and African in white America is a culture shock. But if you survive, it is a learning opportunity. I was observing, learning, watching, doing what I needed to do to navigate the situation. Then, later, I moved to the UK to go to graduate school and that was another layer of navigating my blackness. By the time I came back to Nigeria, I had learned two major lessons that would eventually inspire #fillintheblack game:
Black is as much a skin color as it is an identity, a heritage, a culture, etc. It is many different things to different people. 

Black Africans, Black Americas, Black Brits, Black Caribbeans and other black groups around the world are quite misinformed about each other. Yet, one thing we have in common is our blackness, no matter how that manifests in different spaces. You know what else we have in common? Most of the narrative we consume about each other is controlled by others.
But, there is one more thing...the black revolution never ended. It continues to this day because there is a real threat to the wholeness of black people, cultures and identities. That's why people ofAfricanorigin around the world are still fighting for their humanity, rights and dreams. That's why it is important for black people to tell black stories, that's why we created this game #fillintheblack as a fun way to connect and celebrate blackness everywhere! If BlackAmericansand Africans listened more to each other, and learned more about each other's perspectives, yesterday's episode could have been a more meaningful conversation rather than a fight. All parts of the same family have to empathize with how differently our similar struggles manifest!

Imagine how I felt when this child said that he played the game and felt proud to be African.
Fill in the Black is a cute phrase but it means so much more. There are gaps among black people all over the world. It will take knowledge, interaction, empathy, learning, unlearning and a lot more kindness to literally FILL IN THE BLACK. The game challenges you to describe a BLACK word without using any of the forbidden words on the card. You will laugh and learn at the same time. It is available in Nigeria for only 7,500 Naira (buy here) and in the US, UK and Canada for £14 or $18 (buy here).

Very soon, TVP Adventures will resume trips around the world. We will go to new places, meet new people and have a wonderful time. As we do so, we must remember that we travel to build priceless memories yet the most valuable aspects of travel are the lessons we learn. Let's not forget that. 

What's your experience with race? Think about your first impressions about a particular group; where did it come from? Please reply this email telling me about it. 

Love,
Funmi!