Discover more from Show Me One Thing - by Funmi Oyatogun
This is where to satisfy your curiosity about the world.
Over 4,000 subscribers
What is going on in Nigeria and why is it your business?
For six days, Nigerians have been on the streets protesting against a police unit that have been killing, raping, extorting and harassing young Nigerians for sport. This is why it is your business.
Why are there protests in Nigeria and why is it your business? Here is a summary of the protests going on in Nigeria and why they are important.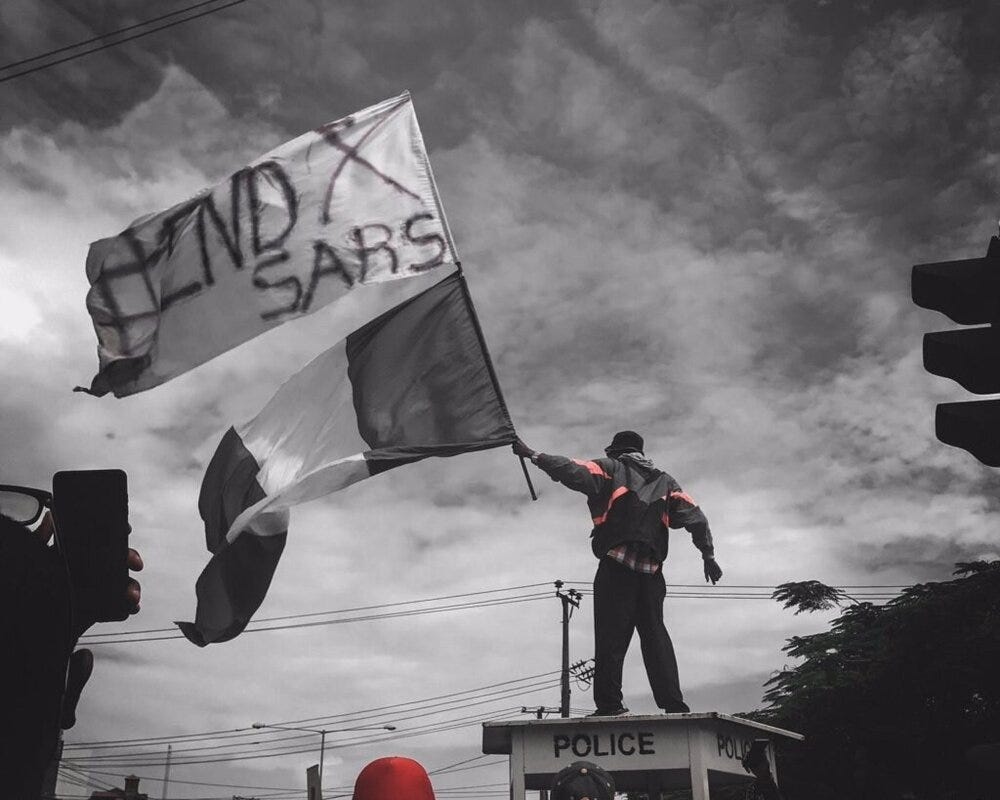 Before I share the story, here is a Bible verse to remind you why silence is unacceptable at this time:
"I know your works: you are neither cold nor hot. I wish that you were either cold or hot! So, because you are lukewarm, and neither hot nor cold, I will spit you out of my mouth."- Revelation 3: 15-16
I also created a video that explains the story. Please share voraciously.
The 1-minute video is also available here.
In 1992, the Special Anti-Robbery Squad or SARS was created by the commissioner for police - Simeon Danladi Midenda. That year, a Colonel of the Nigerian Army was killed by policemen at a checkpoint. To retaliate, soldiers took over the roads, looking for policemen to kill. This caused a lot of policemen to retreat from check points for two weeks. In the absence of police, armed robbery and crime increased and the SARS unit was commissioned to curb the increased crime. Even after police returned to the checkpoints, SARS remained. By 2009, SARS had become a large and powerful unit and their focus had largely expanded beyond armed robbers to internet fraudsters. They were also allowed to drive unmarked cars and operate without badges or uniforms. They became known for their violent harassment of innocent young Nigerians. As the internet age grew, SARS became more creative in how they forced young Nigerians to withdraw money from ATMs and make transfers to them under duress. Everyone knows someone who has been harassed, flogged, raped, extorted, injured or killed by SARS.
By 2016, the first END SARS campaign began. It was widespread and drew some attention. By 2019, SARS had been reformed, overhauled, decentralized and disbanded at least three times without success! By the fourth quarter of 2020, 18 people had been killed by SARS (that we have on record) and this was during the COVID-19 lockdown alone! In all of their existence, hundreds have been killed and tens of thousands have been extorted, injured, raped or harassed. By a police unit that was created to protect citizens.
On Thursday October 8, 2020, the first set of protesters camped out in front of the House of Assembly in Lagos State to demand that the government end SARS immediately. Their chairs and tents were taken away and they slept on the hard pavement. By Friday morning, 1000 more people had gathered and the momentum started to build. On Saturday morning, over 10,000 protesters in over 10 locations in Nigeria had gathered to demand for the abolition of SARS. The roads were blocked and the protest was moved to the homes of government officials. In true form, the police reacted with tear gas, assault, shooting and destruction of citizens property. On Saturday, Jimoh Isiaq - a student at Ladoke Akintola University of Technology was killed by police at a peaceful protest against police brutality in Ogbomoso. By Sunday, there was no going back. An estimated 100,000 people has gathered in 100 cities around the world and the hashtag #ENDSARS was trending at No. 1 worldwide for 48 hours. At least a total of 9 more people were killed - 1 in Abuja and 8 in Ogbomoso. Dozens were arrested in Abeokuta and injured in Abuja. By evening on Sunday, the Inspector General of Police announced that SARS has been disbanded. Unfortunately, this announcement would be the 5th of its kind in 5 years and now Nigerians are demanding a follow-through of the removal of the rogue unit completely; once and for all. Until Monday, October 12, police were still killing innocent Nigerians and the death toll is now 14 and counting.
If you are not in Lagos or Abuja or Ogbomosho or Abeokuta or Port Harcourt or Benin or London or Berlin or New York or Houston or Istanbul or one of the more than 100 cities around the world where these protests are happening, you can lend your voice online. The hashtags #ENDSARS and #SARSMUSTEND are the most popular hashtags to amplify your message. 
We want a country that works in our lifetime. That's all :)
Tell me, what are your thoughts about all that's going on? Let me know. Simply reply this email or leave a comment.
Livid,
'Funmi